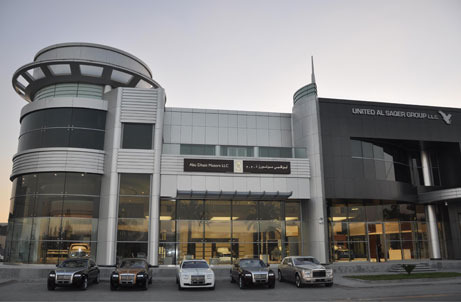 Abu Dhabi Motors has announced a 310% increase in Rolls-Royce sales from January to November 2010 when compared to the same period in 2009. The sole dealer of Rolls-Royce Motor Cars in Abu Dhabi and Al Ain has also retained its position as the number one importer for Roll-Royce Motor Cars in the region and has accomplished the second highest volume sales worldwide for Rolls-Royce Motor Cars in the same period.
This achievement in sales has been particularly attributed to the arrival of the new Rolls-Royce Ghost and sustained demand for unique Bespoke Phantom vehicles. Earlier this year, Abu Dhabi Motors was also confirmed as the best seller of the richest 'Bespoke' specifications in the world as well as being the second best selling dealership worldwide, signalling the significant demand for the brand in the UAE's capital.
Reaffirming its commitment to the emirate, Abu Dhabi Motors has been celebrating its success with the soft opening of a brand new facility. Operations from its showroom on the Abu Dhabi Corniche have now moved to the new facility at the Umm Al Nar head office which is located close to Maqta Bridge. The impressive facility, which is in its final stages of completion, will be officially opened in the first quarter of next year.
The remarkable growth is a particular achievement for the company which was established just 20 years ago by Sheikh Mohammed Bin Butti Al Hamid. Since inception, Abu Dhabi Motors have strived to put customers first and the new facility represents an extension of the unique experience the exclusive importer offers its customers.
The Abu Dhabi Motors Rolls-Royce Showroom in Umm Al Nar is open from 9am to 1pm and 4.30pm to 9pm.
.